MIXED
"Beginning with endpapers full of colorful, distinctive faces in primary hues, Chung presents the heavy issue of discrimination using vivid colors and precise text."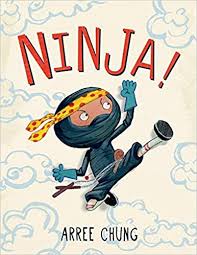 NINJA!
A ninja must be strong, courageous, and silent! He creeps through the house on a secret mission. There may be obstacles! But have no fear—a true ninja can overcome all challenges.
NINJA!
ATTACK OF THE CLAN
A ninja must be ready for anything! Maxwell is a strong, courageous, silent ninja, but he also wants somebody to play with. Mama, Papa, and little sister Cassy are all too busy, leaving Maxwell disappointed and alone. When Maxwell gets called to dinner, he finds an empty dining room. Could his ninja clan be up to something? This sequel to Ninja! is both action-packed and heartwarming.
NINJA CLAUS
After missing Santa in previous years, Maxwell is determined to catch Santa this year. Will Maxwell catch Santa or will he come up empty handed?

Find out who is the ultimate ninja in the third installment of the Ninja! series.
OUT!
After a long day, everyone is ready to settle down except the baby. When Jo Jo, the family dog, checks on him, she discovers this baby wants OUT. Escaping his crib, he sets off on a nighttime romp, leaving a trail of domestic destruction in his wake. It's up to Jo Jo to keep the baby safe but what happens when things start to get a little OUT of control?
THE FIX-IT MAN
Meet Joshua James, the fix-it man. If he can't fix it, no one can!

When a stinky problem arises, Joshua James takes matters into his own hands with a little help from his younger sister, Sophie.

This playful read-aloud story with catchy text and imaginative illustrations is sure to inspire young inventors everywhere.
HOW TO PEE
Out with the old and in with the new! Family physician Dr. Todd Spector presents a fresh and outrageously fun way to encourage little boys and girls to give up their diapers.

Inspired by Dr. Spector's own experiences potty training his son, this combination of laugh-out-loud scenarios and useful advice turns the dreaded potty-training process into an exciting adventure for all.
DANGER GANG
Ronald Zupan is a daring master adventurer! But he actually hasn't experienced any grand adventures . . . YET! When his world-traveling parents are kidnapped on his twelfth birthday, Ronald seizes the chance to prove himself with a dazzling, danger-defying rescue operation. Teaming up with his trusty butler Jeeves, his quick-witted fencing nemesis Julianne Sato, and his pet cobra Carter, Ronald sets course for the jungle of Borneo where his parents were last sighted. If they can crash-land a plane and outrun a hungry snow leopard, surely they can find the secret lair of Zeetan Z, the world's most ruthless pirate! But as their adventure becomes more and more dangerous, can Ronald and his companions muster enough courage to see this adventure through?